A Manual or Electronic Toothbrush-Which One is the Best?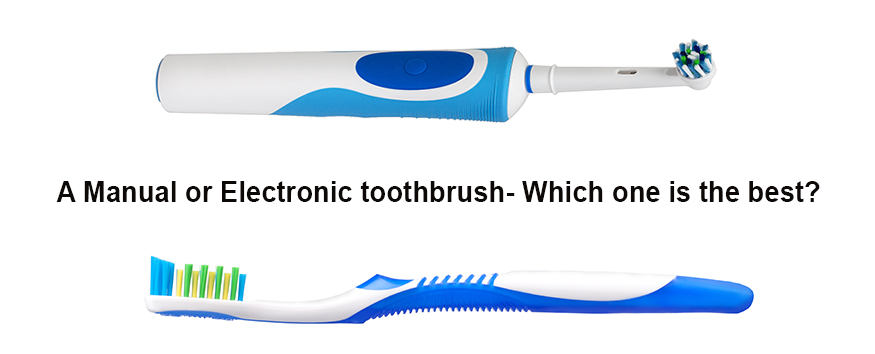 Brushing is an ideal part of dental hygiene. It is said that you must brush at least two times a day to keep your mouth healthy.Selecting a good toothbrush is very important. However, there are two types of brushes available.
Which one to choose from?
Let's have a look at some of the features of an electric and a manual toothbrush.
Over the years the electric toothbrush has become very popular and some say that it provides superior dental hygiene. But can you actually compare it to a manual toothbrush?
The idea of a toothbrush is to remove plaque and strengthen the gums. However, you should know how to use the toothbrush in a proper way.
It is inexpensive and easily available. A majority of the dentists prefer this kind of toothbrush. An electric one, on the other hand, is an expensive one and many of them may not be able to afford it in the first place.
You can take a manual toothbrush with you when you are traveling. Unlike an electric toothbrush, it is not bulky and easier to carry.
It puts less pressure on your gums and teeth
You can feel how much pressure is there on your gums when you brush the teeth. However, this is the case only with a manual brush and this helps you to avoid putting pressure on your teeth. With an electric model, you can't feel it. If too much pressure is given on your teeth your tooth enamel can wear away causing pain, sensitivity and an increased risk of tooth decay.
A manual toothbrush can be used by people of all ages. Be it a child, middle age teenagers or senior citizens.
What about electric toothbrushes? Should we brush them completely aside? Well not really.
An Electric toothbrush is recommended in some cases. And it certainly has some advantages.
It is recommended for people who cannot do away with a manual brush. For e.g.-older people, some who have less manual dexterity (for e.g. arthritis)
Also, people who have a limited ability to move their hands, shoulders can go for an electric toothbrush.
 
How can you really choose an electric toothbrush?
Today electric toothbrushes are equipped with a variety of features. There are pressure sensors which tell you that you are brushing too hard or different timers which tell you when you should stop.
Electric toothbrushes activate the gums and teeth and they do a fantastic job of keeping your teeth clean. In case the teeth are not cleaned properly it would not be an immediate problem but will eventually lead to cavities and other tooth problems. Of course, you do have gum infection treatments. But in this case, any toothbrush can do an effective job; however, there is one specific brush whose configuration is such that it is better at removing the plaque and preventing gum disease.
Electric toothbrushes with bristles that rotate together in a single direction and which rotate in the opposite direction are more effective than manual brushes.
Which one should you really choose from?
It really depends on the type of toothbrush you are comfortable with. If a manual one suits you go for it however if you feel you can handle an electric one then there is no harm in using that.
The only thing to keep in mind is that the bristles should be soft whether manual or electric one. Similarly, for an electric one, you need to change the bristles when they are worn out.
Bristles are very important.
On a concluding note
Toothbrushes need to be changed every three months and you should keep a check whether the brushes are clean and firm. If they are not they would no longer help in keeping your teeth clean.
So always use a good toothbrush whether manual one or an electric one.
Happy smiling!